Cards 4 CARMA

Join us for the 8th Annual CARMA Cares Charity Fundraiser
Cards 4 CARMA
Saturday July 18th
6:30 p.m. – Cocktails
8:00 – 11:00 – Poker and Games
 Attendees of the "Cards 4 CARMA" event will enjoy a Texas Hold'Em Poker Tournament, a Casino Night, silent auction and much more.
This year's grand prize is a two night stay at Mandalay Bay Resort & Casino, including dinner for two and tickets to the Cirque du Soleil show Michael Jackson ONE.
This very special package is provided compliments of Mandalay Bay Resort & Casino. There will be live music performed by The West Coasters Band, a taco fiesta buffet and a no-host bar.  Guests will mix and mingle with industry elite, including racehorse owners, trainers and jockeys.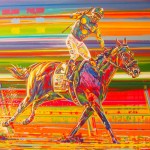 Special Live Auction Item
Renowned portrait artist Stephen Bennett has donated an original 72" x 48" acrylic on canvas painting of American Pharoah's historic Triple Crown win in 2015.  This one-of-a-kind piece will be auctioned off in a   special live auction at the beginning of the poker tournament.  Also in the live auction is a 3 day/2 night stay at a luxurious Park City Utah condominium.
---
About CARMA
CARMA is funded by individual donations and by a 0.3 percent deduction from purses to help fund equine retirement.  This deduction, one owners can opt-out of, is used to help support equine retirement farms and other non-profit programs that care for and retrain retired Thoroughbred racehorses.   Since its inception in 2008, CARMA has granted over $2.418 million which has provided care to hundreds of Thoroughbreds that participated in California races at some point in their career. Over 80 percent of the funds raised by the organization are utilized in the day-to-day care of these horses.