Our Website is Under Construction
We are excited to launch our updated website. Please bear with us while we continue to make improvements. Feel free to email us with any requests or suggestions. Thank you!
Who We Are
California Retirement Management Account (CARMA), a charitable 501(c)(3) organization was created to raise money for retired Thoroughbreds who raced in state and the aftercare nonprofit which care for them once they cross the finish line for the last time. Through our Placement Program, we have helped more than 100 race horses transition off the track and find homes through our aftercare partners.
You Can Help
Our mission is to assist Thoroughbred retirement facilities that care for and retrain horses whose careers have ended after competing in California Thoroughbred races. Make a Contribution to help ensure our retired racing stars have productive second careers.
Upcoming Events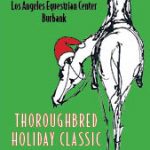 *Canceled* Thoroughbred Holiday Classic Horse Show
As a result of the continuously developing Equine Herpes Virus (EHV-1) outbreak at the Los Angeles Equestrian Center, we are canceling the Thoroughbred Holiday Classic Horse Show (December 10-11). We have explored alternate venues but are unable to relocate the show.