CARMA Placement Program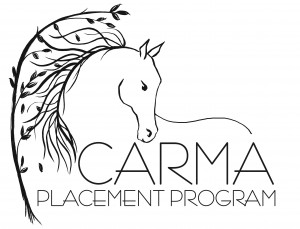 P.O. Box 1086, Sierra Madre, CA 91025
626-574-6654
PlacementProgram@carma4horses.org
WHAT IS THE CARMA Placement Program?
The California Retirement Management Account Placement Program has been developed to act as a liaison between horsemen and CARMA Aftercare Partners (non-profit benefactors of CARMA grant funds). The primary focus of the program is to facilitate the transition of horses from the racetrack to the aftercare organization that can best place that horse into its second career. Horse care and safety is of primary importance to CARMA and the program encourages the racing industry to participate in the care and protection of its equine athletes.
HOW DOES IT WORK?
Horses accepted into the program will be transported from the racetrack to our "triage" unit at Winners' Circle Ranch in Bradbury, CA and will be placed under the direct supervision of the Thoroughbred Rehab Center staff (a CARMA Aftercare Partner). This medical lay-up facility has the resources to assess and care for newly retired racehorses as they make the transition from racing to second careers. A written report with a soundness and temperament evaluation and photographs will be provided to all Aftercare Partners. The horse will then be placed with the most appropriate organization, which will then be responsible for rehabilitating and adopting the horse out or offering permanent retirement, if that's the most appropriate course of action. When the horse is ready it will be offered for adoption or sale, based on the policies and procedures of the individual charity.
HOW IS THIS PROGRAM FUNDED?
The Placement Program has been made possible by the Santa Anita Park After-Care Program. This fund matches the .03% of purse money donated to CARMA by owners through a voluntary purse deduction. 80 percent of monies matched will be used directly for thoroughbred aftercare and the remaining 20 percent will be used for education and awareness campaigns for horsemen.
WHY IS THE PLACEMENT PROGRAM NECESSARY?
Horse ownership is…well…expensive. This expense continues well beyond a horses' racing career. Here is a little bit of math on retirement:
Monthly pasture board + care + hoof trimming + dental + worming = $350
$350 x 12 months = $4,200 yearly upkeep
If your horse retires at age five and lives to be 20 years old that's 15 years x $4,200 = $63,000
There aren't many owners out there in the position to pay over $60,000 to care for every retired horse they have owned for the rest of its life. Luckily, Thoroughbreds are not only good for racing; they can excel at any equine sport and make excellent riding and pleasure companions.
I WOULD LIKE THE PROGRAM'S HELP TRANSITIONING MY HORSE INTO RETIREMENT.
WHAT DO I DO NOW?
Contact CARMA and fill out a horse INFORMATION FORM for consideration.
IS MY HORSE ELIGIBLE?
There are a few requirements for eligibility. Please review these and feel free to call the office if you have any questions.
The connections must participate in the CARMA purse contribution program.
Colts or stallions will NOT be accepted. Please make arrangements to geld your horse, if necessary.
Your horse must have run at SANTA ANITA, HOLLYWOOD PARK or DEL MAR in the last six months.
You must be willing to make a donation to the Placement Program on behalf of you horse.
MY HORSE HAS BEEN ACCEPTED, WHAT DO I NEED TO DO?
It is important to keep a thorough paper trail on horses that go through the program. This is for your own protection, and also for ours. You will receive a packet with documents to sign and step-by-step instructions.
Read and sign the "Surrender Form". This releases your control and liability over the retired horse.
Sign over the foal papers to Thoroughbred Rehab Center (The charity taking your horse)
Donate on behalf of you horse. Donations can be made on our website's Donation Page or via check made out to CARMA. Our mailing address is PO BOX 1086, Sierra Madre, CA 91025.
Be sure to note who the donation is for (horse's name). You will receive a donation acknowledgement for your records.
PLEASE CONSIDER BEFORE YOU CALL:
We encourage all owners and trainers to explore adoption possibilities for their newly retired Thoroughbred prior to contacting the Placement Program for assistance. Refer to the list of CARMA approved aftercare facilities and contact any groups that look like a good fit for your horse.

For more information about the Placement Program or for additional information on Thoroughbred Retirement call or email our office. Download Intake Form Here or request one be faxed to you by calling or emailing our office.

Phone: 626-574-6654
Email: PlacementProgram@carma4horses.org.  Please expect a response within 48 hours of contacting the program.