California Retirement Management Account
What We Do
California Retirement Management Account (CARMA), a charitable 501(c)(3) organization was created to raise money for retired California racehorses.
You Can Help
Our mission is to assist Thoroughbred retirement facilities that care for and retrain horses whose careers have ended after competing in California Thoroughbred races. Make a Contribution to help ensure our retired racing stars have productive second carrers.
Grants
CARMA's grant process includes sending Requests for Proposals to interested facilities, arranging and participating in site visits for those that have properties and/or have horses at foster facilities, conducting interviews and/or office visits for those that do not have farms, reviewing the grant proposals submitted by each applicant, and conducting a final board meeting to allocate funds at the end of the year. For a current schedule and to request an application please visit our Grant Process page.
Upcoming Events
---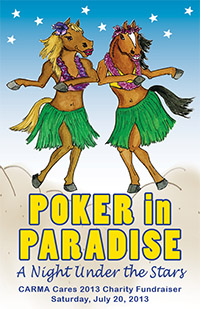 Poker in Paradise 2013
---
Saturday, July 20, 2013 – 6:30 p.m
Details:
6th Annual CARMA Cares Fundraiser at the Del Mar Hilton Hotel
Texas Hold 'em Poker, umbrella drinks, and appetizers under the stars
All proceeds to benefit CARMA — purchase your tickets here!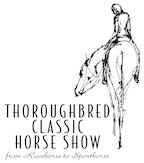 Thoroughbred Classic Horse Show Series
---
Presented by the Siegel-CARMA Foundation
July 27 & 28, 2013
San Juan Capistrano, CA
Details:
Celebrating the Athleticism, Versatility, and Spirit of retired racing Thoroughbreds
Be a part of the Thoroughbred Movement