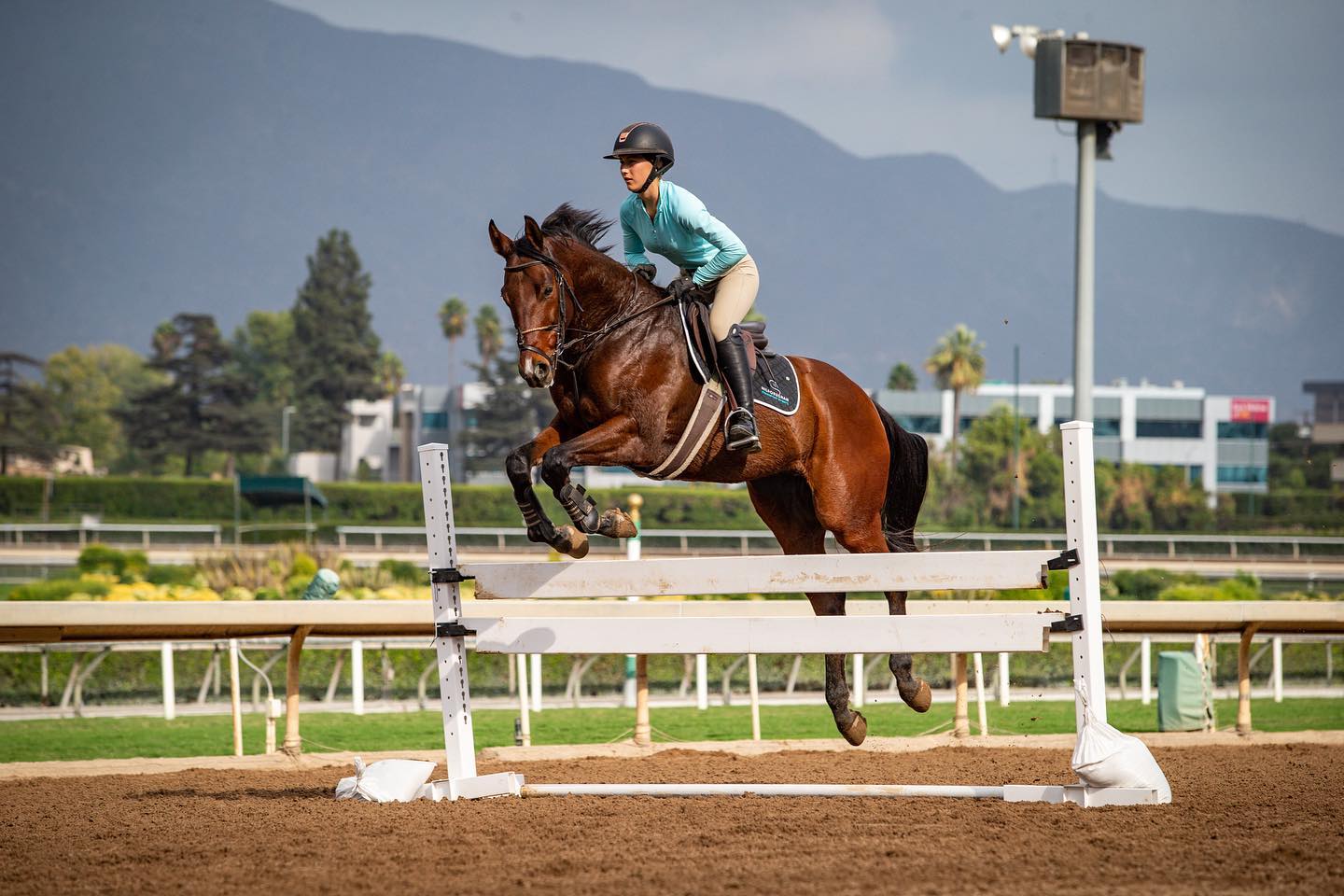 AMANDA GOMEZ, ABOARD RETIRED 7-YEAR-OLD GELDING BEEN IN DENILE
ZOE METZ PHOTOGRAPHY
Former Santa Anita runners come back to the track to showcase new careers
On the eve of Breeders' Cup week, CARMA embodied the premiere sporting event's slogan "the best is yet to come" by showcasing retired racehorses in their new careers on Santa Anita Park's iconic main track on Sunday, October 27.
A trio of three local champion barrel racers, consisting of Jaime Lee, Mallory Cortes and Christina Bernal, kicked off the demonstrations. Not often thought of as barrel mounts, their off-track-Thoroughbreds shined a light on the breed's incredible diversity and heart.
Lee was the first to go aboard her tall 11-year-old dark bay gelding, Pat's Paradise. During his racing career, he made 24 starts finishing first three times. By the way his eyes brightened when asked by Lee to gallop to the final barrel, adjacent to the finish line, his history of success on the track was apparent as his eyes brighten and ears perked. His breeder David Bruce Bloom made a special trip the track to cheer him on. After his barrel run, Bloom was beaming with pride.
Small but mighty, Heavens Eagle, a nine-year-old chestnut mare went second piloted by Cortes. Her former trainer, Daniel Taylor, came to cheer her on and to say hello. Cortes purchased Heavens Eagle from Taylor four years ago privately from his Los Alamitos based barn when he determined she was simply uninterested in racing. Following Heavens Eagle's wishes, he retired her unraced. She was excited to return to the track to show off her speed around barrels.
The youngest of the barrel horses, four-year-old Coin Trick, a fiery chestnut gelding, concluded the western demonstration and was mature beyond his years. Guided by his adopter Christina Bernal, he effortlessly loped around the pattern. Bernal adopted Coin Trick from aftercare charity Serenity Acres Horse Rescue in 2018. The duo has already won multiple competitions and have a very bright future together.
Showcasing the sport of show jumping were CARMA Youth Ambassadors Amanda Gomez and Jolee Craigmyle. Gomez and Craigmyle have deep family ties to the racing industry and Thoroughbred horses. Amanda being the daughter of the late Hall of Fame jockey Garrett Gomez and Jolee the daughter of assistant start and farrier Shane Craigmyle and the granddaughter of former trainer and Los Alamitos Scott Craigmyle.
Riding in tandem to the music of Superman, Gomez and Craigmyle demonstrated the tremendous athleticism of retired racehorses over large jumps. Gomez piloted her seven-year-old bay gelding Been In Denile, a son of Pioneer ofthe Nile who her father famously rode to a second place finish in the 2009 Kentucky Derby. Craigmyle rode 11-year-old Ninja Star with the same intensity and determination as the duo routinely brings in the Thoroughbred Classic Horse Show, an equestrian event hosted by CARMA.
CARMA hosts multiple Aftercare Awareness Days at Santa Anita Park throughout the year as an educational tool for the public, racing industry and equestrians to show the many things retired racehorses can do in their life after the track. Please visit carma4horses.org for more information.