May is a time to raise awareness for individuals facing mental or behavioral health challenges and combat the stigma they often encounter.
Horses play a vital role in therapy at many organizations around the world, and at CARMA, we are delighted when racehorses retiring through our Placement Program become therapy stars in their second careers. In the picture above, #CARMAgrad Uluckydevil is one of three one-eyed horses supporting the therapy program at Square Peg Foundation.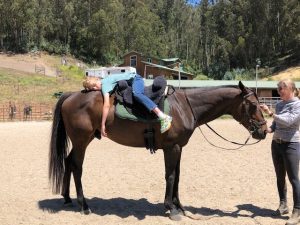 Meet Aftercare Charity Partner Square Peg Foundation
Square Peg (located in Half Moon Bay, CA) was started back in 2004 – and they set out to make the therapeutic riding model even more powerful.
Students and their families have a variety of diagnoses and labels that make up #teamquirky community. Autism, Usher syndrome, Duvet syndrome, anxiety, anger, ADHD- you name it. The idea at Square Peg is that diagnosis, label, or IEP requirements do not define someone. Square Peg focuses on following students, celebrating their interests, and connecting through adventure, humor, and kindness. Students are typically 'Square Pegs' themselves, just like the horses.
Square Peg is all about reminding us that what makes us different is also what makes us special.
Learn more about all of our Aftercare Charity Partners on our aftercare directory.