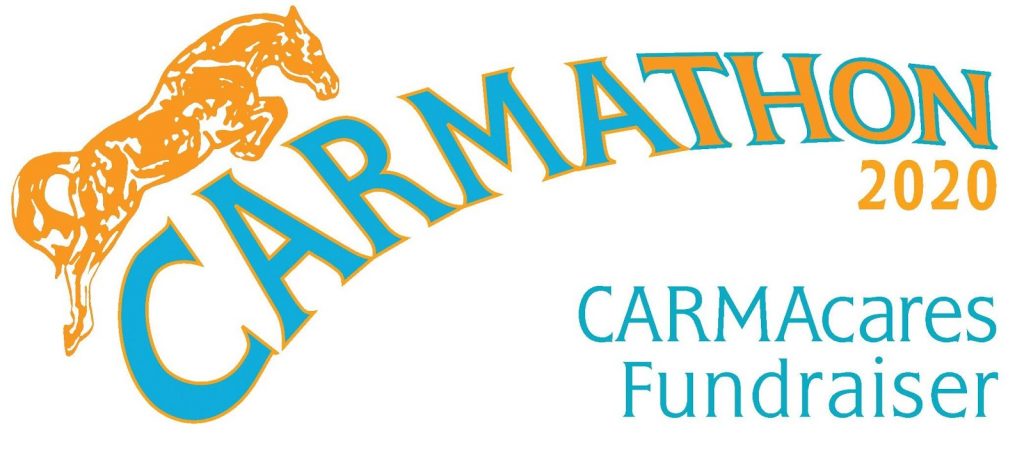 Racing Community Rallies to Support Retired Racehorses and Aftercare Programs
DEL MAR, Calif., Aug. 23, 2020 – When it comes to providing care for retired racehorses, even a global pandemic could not stop the racing community from coming together – virtually. CARMA, a nonprofit organization dedicated to Thoroughbred aftercare in California, hosted its summer fundraiser, CARMAthon 2020, on Saturday, August 22, and raised more than $120,000. With the help of TVG, CARMAthon 2020 shared the spotlight on Pacific Classic Day and shined on social media platforms.
"We were a bit surprised and definitely touched by the overwhelming success of CARMAthon," said CARMA Executive Director Lucinda Lovitt. "We didn't know what kind of reaction we would get hosting a virtual event –  if it would even be something our supporters would understand.  But the level of participation by the racing community, fans, and equine enthusiasts across the country was just amazing." 
Named CARMAthon 2020 as a nod to old-school telethons, the fundraiser replaced the nonprofit's annual summer event traditionally held Opening Weekend at Del Mar Racetrack. Designed to showcase the lives and second careers available to retired racehorses, CARMAthon inspired hundreds of individuals and businesses to donate towards a very worthy cause. 
"In addition to our own programs, CARMA assists more than 20 aftercare organizations through our annual grants," said CARMA President Candace Coder-Chew. "This year our funding took a big hit with the loss of racing dates, so we desperately needed CARMAthon to fill that gap so we could continue to provide much-needed support." 
Throughout the week leading up to the big day, CARMAthon 2020 hype dominated Twitter, Instagram, and Facebook with the help of Grand Slam Social, who donated their expertise to the cause. TVG was a major supporter by kicking off the fundraiser with a $25,000 donation and doing live interviews with CARMA Treasurer Billy Koch, Board Member Bing Bush Jr.,  and Executive Director Lucinda Lovitt. Many supporters could not wait to donate to CARMAthon and began making contributions before the event even started. Once CARMAthon 2020 kicked off Saturday morning, donations continued to come in around the clock, even during the early morning and overnight hours. 
"So many racing people and businesses stepped up this weekend to help the horses, which is what we are all supposed to do," said CARMA Treasurer and Little Red Feather Racing founder Billy Koch. "CARMAthon 2020 is a great example of how much we all love our horses and CARMA could not do the work we do without everyone's support."
CARMAthon donors include: TVG, Santa Anita Park, Bob & Jill Baffert,  Purple Shamrock Racing, Rancho San Miguel, Deb and Joe McCloskey, Nav Rahemtulla, LRF Cares, My Racehorse, James Perry, Double LL Racing, Cicero Farms, Eclipse Thoroughbred Partners, Slugo Racing, Mark Segal, Maureen Richardson, Southern Comfort Stable, Mark Stanton, Golden Gate Fields, Monarch Content Management, David Menashe, Onofrio Pecoraro, Erin Auerbach, Ben Posen, Donald Krawiec, Richard Pearson, Rick Gold, Jeffery Bloom, Domenic Savides, VBBH Inc., Chuck Winner, John Sondereker and more than 250 other generous individuals.