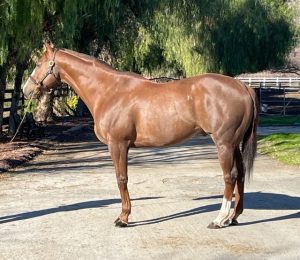 By Jay Privman
When Erica Cohn was in the market for a riding horse, she had a requirement she thought non-negotiable.
"I didn't want a Thoroughbred," she said.
It didn't quite work out that way, and she couldn't be more thrilled.
Cohn, a resident of Foothill Ranch in Orange County, CA., had researched equine adoption agencies and came across Win Place Home, based a couple hours north of her home in Canyon Country. C.J. Wilson, who runs Win Place Home, thought a horse she had received from CARMA was the perfect horse for Cohn – a chestnut Thoroughbred, the former Grade 3 stakes-winning gelding Mr. Vargas.
"You can't choose your horse. The horse chooses you," Cohn said. "We just clicked. I tell C.J. she should go into the human match-making business, because this was love at first sight."
Mr. Vargas, now age 9, made 18 starts between 2017 and 2021, winning five, most notably, in 2019, Grade 3 Green Flash Handicap for turf sprinters at Del Mar.
After making his final start in 2021, Mr. Vargas was placed by owner Samantha Siegel with CARMA, which matched him with Wilson to begin the process of turning Mr. Vargas into a pleasure horse.
"He's a big horse. We gave him the barn name of Dozer – short for bulldozer," Wilson said. "He had some arthritis. It was appropriate for him to be an easy riding horse, a trail horse. He's very sweet and kind. He was ready for a second career. And the woman who ended up adopting him fell in love with him."
Cohn adopted Mr. Vargas in March 2022. She keeps him at a ranch in Norco, about 40 minutes from her home, and rides him several times a week.
"Norco is the perfect place for him. There's lots of horse trails, no sidewalks," Cohn said. "When he's feeling good we do some arena work, small jumps.
"He's a real people pleaser. He still thinks he's a celebrity. When people come to the barn, he thinks they're all there to see him, that they're all his admiring public."
Cohn said she found Win Place Home via a woman who had adopted a horse from that organization.
"C.J. is amazing. Win Place Home is amazing," Cohn said. "They're not trying to just move a horse along. They want to make sure a horse is put in the best place possible for success."
Win Place Home is among the organizations CARMA uses for re-training former racehorses for their post-racing careers. Wilson has plenty of racetrack experience, having worked for the late trainer Howard Zucker for four years before becoming a veterinarian technician. She founded Win Place Home in 2015, took in her first horse in 2016, and now adopts out about 30 horses a year, including, in 2022, the people-pleasing Mr. Vargas.
Funding for CARMA, which supports organizations like Win Place Home and helps facilitate second careers for horses like Mr. Vargas, come from private donations as well as CARMA's annual fund-raiser, CARMAthon, to be held this year on Aug. 26 at Del Mar, with generous support from FanDuel TV and TVG.