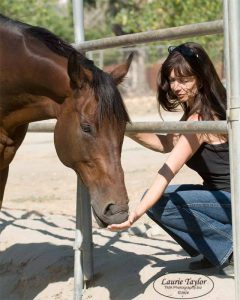 By Jay Privman
In his seven years on the racetrack, Gab Power liked structure. From 2010 to 2016, he raced 56 times, winning eight, earning $371,893 along with the admiration of everyone who came into contact with him. He was the prototypical hard-knocking racehorse, competing almost exclusively in claiming and allowance races. Only three of those 56 starts came in stakes races.
He's brought that same lunch-pail mentality to his second career.
Now age 15, the veteran former racehorse is handling the disciplines of dressage under the current tutelage of Dr. Kelly O'Connell — a clinical researcher at the University of California at Davis – who adopted Gab Power from CANTER-California's Northern California facility.
"Dressage is very structured, and he's a structured kind of guy," O'Connell said. "His attitude is like, 'You're on my back, let's do a job.'"
Gab Power is the first horse O'Connell has adopted through the CARMA program, which provides grants to accredited facilities that re-train former racehorses for second careers. Placing horses in the proper setting, and finding the appropriate adoptee, is the hallmark of CARMA's program.
"He's an anxious horse. He likes to have a job. If he doesn't have a job, he gets antsy," said Jody Imel, the Northern California horse manager for CANTER-California.
CANTER-California's Northern California facility is located in Davis, not far from where O'Connell works. There was an immediate connection between O'Connell and Gab Power.
"He struck me as a horse who really takes himself very seriously," she said. "Some horses hold on to their past. He seemed proud of what he had done. He wouldn't immediately let me in. He put me through my paces. He threw stuff at me, almost like, 'How serious are you?' It was like he was trying me out as an adopter."
O'Connell thought Gab Power had the temperament and personality for dressage. The match was made.
"He's a really cool horse. I love him," she said.
Funding for CARMA, which supports organizations like CANTER-California and helps facilitate second careers for horses like Gab Power, come from private donations as well as CARMA's annual fund-raiser, CARMAthon, to be held this year on Aug. 26 at Del Mar, with generous support from FanDuel TV and TVG.