All we can say is, WOW! Last month was our largest amount of Placement Program Graduates to date with 11 retired racehorses finding new homes!
Some of these horses are receiving training for their second careers and are available for adoption – so please, keep in touch with the organizations in which they were placed.
Glorious Crown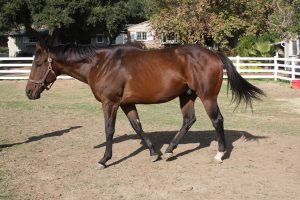 This handsome five-year-old gelding has one of the easiest temperaments you're going to find in a young horse. Glorious Crown made such a strong impression on everyone who handled him after coming off the track with this professionalism and class. He made 12 starts and earned $44,150 before joining the Placement Program in November 2018.
One of our board members had a friend who would be just perfect for Glorious Crown and thus he was adopted to a lovely family in Reno, Nevada.
Unusual Taste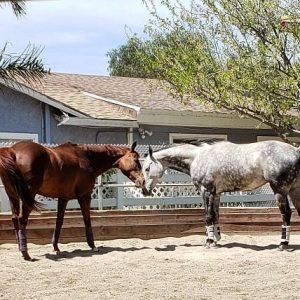 It's true, dapple greys don't seem to stay in the Placement Program for long and Unusual Taste was no exception.
Now nicknamed Jones, after the Tom Jones song "It's Not Unusual", this eight-year-old gelding by Unusual Heat retired from racing in January 2019. He joined us with a whopping $284,377 in earnings from 29 starts. Notably, he won seven races!
Jones was placed with Aftercare Charity Win Place Home to be a companion horse for another CARMA Grad, Angel In Flight. Jones and Angel are now best friends will be going to a forever home together.
Loss Mitigation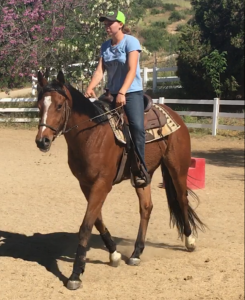 He comes from a successful family of Southern California runners, but Loss Mitigation is just one of those boys who would rather just hang out and be a pet. Loss Mitigation is a three-year-old gelding by Square Eddie and is out of Repo. His full siblings including graded stakes competitor Ann Arbor Eddie and three-time winner Operandi. Loss Mitigation never made it to the starting gate.
Despite being just a youngster, Loss Mitigation is mellow and super easy to ride. He was placed with Aftercare Charity Whispering Meadows Ranch and is already off to a great start for his second career.
California Man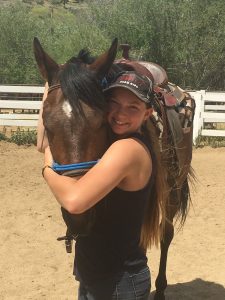 California Man is a four-year-old gelding by Good Journey and out of My Looloo. He's another example of a Thoroughbred who didn't quite make it to the races.
This classy gentleman is handsome, friendly and gets along with everyone (horse, dog and human). We caught him in the middle of a growth spurt! He's currently 16.3 and big bodied.
He was placed with Aftercare Charity Whispering Meadows Ranch in Temecula, California and is available for adoption where he is being trained as a dressage prospect.
I'm Ready to Roll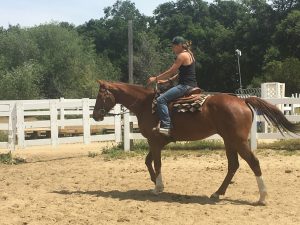 Having raced at multiple venues all across the country, he truly is ready to roll. He competed at Ellis Park, Kentucky Downs, Indiana Grand, Churchill Downs, Laurel Park, Los Alamitos and ended his 19-start career at Santa Anita Park – which is where he met us.
Rolls is 2013 gelding by champion More Than Ready and is out of Brown Eyed Girl. He's a good-natured boy who was also placed with Aftercare Charity Whispering Meadows Ranch to be a trail horse.
Majestic Design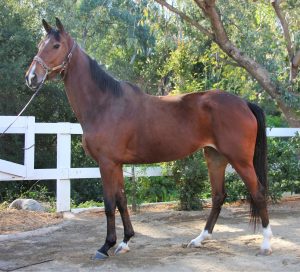 This leggy supermodel type mare retired from racing after 11 career starts, two wins and nearly $30,000 in earnings. She is also a survivor of the Lilac Fire which devastated San Luis Rey Downs in December 2017.
Majestic Design is a sensitive soul who loves being in a herd of older mares and prefers the quiet life. Thus, Aftercare Charity Thoroughbred Rehab Center found her an ideal home in Somis, California where she can live in pasture.
Smitten Kitten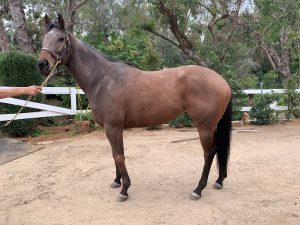 She is a tall and large-bodied five-year-old daughter of Ministers Wild Cat who raced six times before retiring to the Placement Program with $37,955 in earnings.
Her kind and noble eye caught the attention of Thoroughbred Rehab Center who found her a lifelong home in Somis with her new found buddy Majestic Design.
Green With Eddie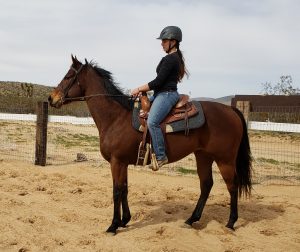 We grew so fond of "Eddie" during his long stay in the Placement Program. When he first joined us, he was very freshly gelded but he thought it was important to remind us he was still very much a man. He would randomly rear while grazing and then look at us like we should be marveling at his greatness.
As the testosterone left his system, he became so steady and calm that amateurs could just hop on and go for a trail ride. He loves cuddles and lounging in the sun.
During his time on the track, Eddie was black type stakes horse. He came in second in the Santa Anita Juvenile, won the Graduation Stakes and competed in the Echo Eddie and Cary Grant.
Eddie now resides with Aftercare Charity White Rock Horse Sanctuary and spends his days hitting the trail and entertaining his humans.
Mongol G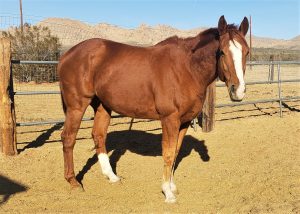 Sweet Mongol G joined us following some unusual circumstances and with the help of a jockey's agent who adored him during his racing career. With this beautiful chestnut coat, flashy marking and his gentle demeanor – it's easy to see why she liked him so much.
Mongol G is a six-year-old gelding by Any Given Saturday and is out of Gail's Ring. During his racing career, he ran at Gulfstream Park, Churchill Downs, Arlington and Del Mar.
After spending seven months in the Placement Program, he found his new home with Aftercare Charity White Rock Horse Sanctuary.
Jack and I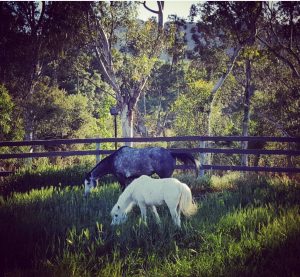 When we welcomed Jack to the Placement Program on our social media, we were overwhelmed with likes, comments and people wanting to adopt him. A steel grey gelding with a huge splashy blaze? We couldn't say were surprised.
Jack is a four-year-old by Macho Uno and is out of a Mr. Greeley mare. Jack and I made 11 starts and earned $23,435 during his year on the track. He is also a survivor of the Lilac Fire at San Luis Rey Downs.
We gave Jack a 60-day grass pasture vacation in beautiful Petaluma before Aftercare Charity Sandia Creek Auxiliary Foundation in Fallbrook scooped him up!
Papa Royale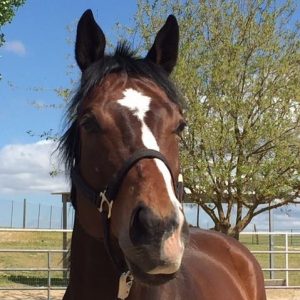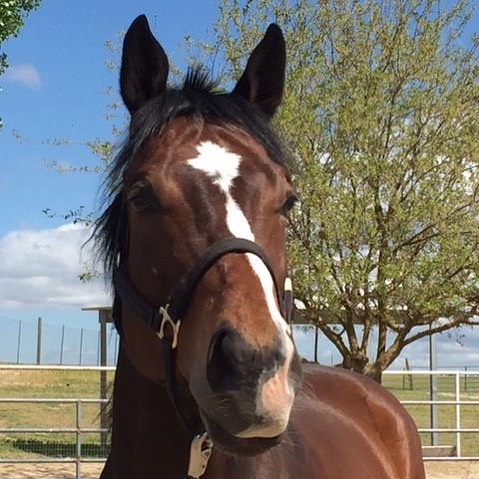 Papa was a big favorite of the layup facility manager who took care of him during his 60-day stay in the Placement Program. She would say, "This is one nice horse. Whoever ends up with him will really have something special."
During his racing career, Papa ran 15 times exclusively in California and earned more than $30,000.
We know he is going to be a much-loved family pet and riding horses, thus he ended up with Aftercare Charity Redwings Horse Sanctuary in Lockwood where he will eventually be available for adoption.