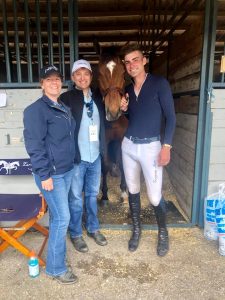 The Southern California racing community was well represented at Land Rover Kentucky Three-Day Event on April 25-28, 2019 by a 10-year-old off-track-Thoroughbred Unmarked Bills. "Billy" spent the early portion of his career competing at Santa Anita Park and Hollywood Park for trainer Richard Mandella before heading back east. He would ultimately race 24 times before his owner, David Nuesch, a former jockey turned Safety Steward at Los Alamitos, decided to channel Billy's athleticism into a second career as a sport horse.
"Prior to joining the CHRB, I was a full-time exercise rider for trainer Mandella. Billy was one of my regular rides, and I just thought he was a nice horse in general, that loved his job. He was just a cool customer that handled everything in stride, and though he found himself competing at the lower levels of racing here at Santa Anita, he couldn't wait to go out and train everyday. I purchased him from Diamond A and immediately sent him to my brother Patrick at our family training center Braeburn, located in Virginia," said Nuesch. "Truthfully, my sole focus was the many racing options on the east coast, not transitioning him into another career. It was my wife (girlfriend at the time) Daryl that knew, with his physical appearance, that if racing him back east didn't pan out he would make someone a nice sport horse."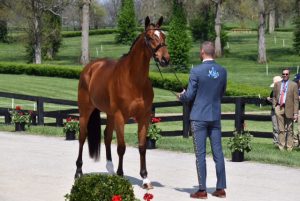 The main goal for Nuesch was to get Billy the best home possible. Though he did win two races for him (both on the grass) under his brother's care, the turf season had come to an end, and with Billy about to turn six, it didn't make sense waiting around till spring. When Nuesch decided to retire him, it was before RRP had really taken off and the supply for OTTB's was much greater than the demand.
Nuesch actively sought out the best opportunity for Billy and contacted a family friend, an event rider named Kate Samuels, for advice on how he could find Billy a sporting home. After Samuels free jumped Billy, she reached out to none other than emerging eventing star Chris Talley to help train and sell Billy for Nuesch.
Talley came to see Unmarked Bills at their family farm in Crozet, Virginia. Chris must have liked what he saw because he instantly agreed to take Billy on consignment. A few days later Billy was on his way to Florida to embark on his new career. Within months of joining Talley in 2015, Billy was competing at Training Level events which includes Dressage, Stadium Jumping and Cross Country. Billy was for sale during his first years with Talley but due to a slight breathing issue, he never sold. Recognizing his talent and love of cross country, a syndicate was formed which allowed Talley to continue to ride Billy and control the direction of his new career.
"This approach just felt right, as two of them together had done so much in such a short time," Nuesch shared.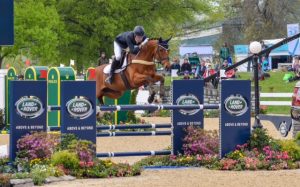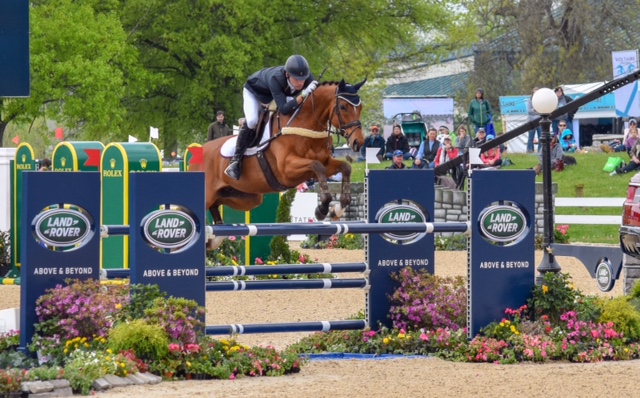 Nuesch's hunch was right on the money, as the young duo finished 27th at the prestigious five-star eventing competition held at the Kentucky Horse Park in Lexington. This was the debut for both Chris and Billy at the CCI5* level and the team emerged as fan favorites. Nuesch and his wife Daryl, an assistant trainer at Santa Anita Park to Matthew Chew, flew out to support and cheer on their horse
"It really was incredible! Even though my Dad was a three-day rider himself, it really didn't sink in, until we arrived in Lexington, what a big deal this was," said Nuesch. "Daryl and I both found it humorous that in racing Billy would be considered an old man already, but at the tender age of ten, he was among the youngest equine participants at Land Rover this year. It was great to see him not only compete at this level but just how much he enjoyed it. There really isn't anything like watching a horse that loves their job. The partnership Chris and Billy have established is more than I could have ever hoped for."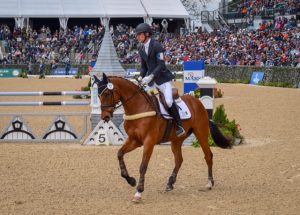 A true advocate for Thoroughbred race horses, Nuesch has often recommend the CARMA Placement Program to safely retire a horse. Most recently, after Mr. Zippers sustained a career ending injury at Los Alamitos, he connected his owners with the CARMA program, and now Mr. Zippers is enjoying a life of retirement.