Santa Anita to Host Aftercare Awareness Day June 17; CARMA Youth Ambassadors to Showcase Talent Aboard Retired Racehorses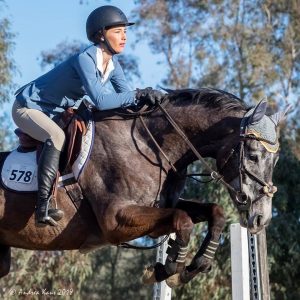 ARCADIA, Calif. (June 12, 2018)–Santa Anita Park, in conjunction with the California Retirement Management Account (CARMA), will host an event celebrating retired racehorses and those that attend to and develop them, with Aftercare Awareness Day, on Sunday, June 17.
CARMA Youth Ambassadors Amanda Gomez (15) and Jolee Craigmyle (14) will be demonstrating the versatility of retired Thoroughbreds in their second careers as they showcase several riding disciplines such as show jumping and barrel racing.
Gomez is the daughter of late Hall of Fame jockey Garrett Gomez and show horse trainer, Pam Gomez.  Amanda Gomez recently won the $1,500 Jumper Stakes at CARMA's Thoroughbred Classic Horse Show (TCHS) last Month in Riverside and to commemorate Father's Day on Sunday, she, along with her prized horse, Amadeus, will be riding in honor of Garrett.
Craigmyle, like Gomez, comes from a well established racetrack pedigree, as she is the granddaughter of former Thoroughbred trainer and current Los Alamitos Racing Manager, Scott Craigmyle.  The daughter of Santa Anita assistant starter and blacksmith Shane Craigmyle and his wife, Michelle, Jolee Craigmyle won the $1,500 TCHS in 2016 at age 12.
In addition to on-track performances, non-profit organizations specializing in Thoroughbred aftercare will be at Santa Anita to help educate the public on measures taken on behalf of retired racehorses statewide.
For additional information on Santa Anita's Aftercare Awareness Day on June 17, please contact Santa Anita's Director of Print and Graphics Candace Coder Chew at Candace.chew@santaanita.com.