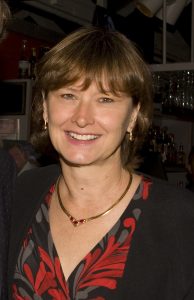 Leading Thoroughbred aftercare charity to be steered by life-long equestrian and business woman
ARCADIA, Calif., Feb. 23, 2019 – The California Retirement Management Account (CARMA), a non-profit organization that provides funding for retirement of California-raced Thoroughbred horses, announced today that Candace Coder-Chew has been unanimously chosen board president.
Nominated by her predecessor, veteran trainer Howard Zucker, whose term had come to an end in January, Coder-Chew fills the position perfectly with her tenacious personality, involvement in racing and love of Thoroughbreds.
"There is no one who deserves this title more than Candace," said CARMA's founder Madeline Auerbach. "She dedicates so much time to this organization and our mission. CARMA has seen tremendous growth over the last several years and I am confident Candace will continue that upward trajectory."
In her previous role as vice president, Coder-Chew oversaw the expansion of CARMA's Placement Program and the Thoroughbred Classic Horse Show (TCHS). During her tenure, participation in both programs grew more than 50 percent. She was also instrumental in creating Aftercare Awareness Days at Santa Anita Park. Recognizing a need to demonstrate the versatility of Thoroughbreds once their racing careers are over, Coder-Chew created an on-track event to showcase their abilities to horsemen and fans during live racing.
"I am more than honored to serve as President of CARMA with a team of dedicated and passionate industry professionals that make up CARMA's board of directors," said Coder-Chew.  "CARMA, and its critical mission of supporting Thoroughbred aftercare and aftercare awareness, has been near and dear to my heart since its inception."
"To begin this month, we have designed a new campaign titled OWN. RACE. RETIRE. This will be the common thread through our existing programs designed to increase awareness and promote inclusiveness with both the horse racing industry and the general public. I am looking forward to working with our talented board and staff to see the organization reach its fullest potential," she said.
Professionally, Coder-Chew is Santa Anita Park's Director of Print and Graphics – a position she has held for 26 years. She is the wife of Thoroughbred race trainer Matthew Chew and has owned many retired racehorses.
"Candace is incredibly hands-on – her passion for Thoroughbreds is evident in the amount of time she gives to this organization," said Executive Director Lucinda Mandella. "She has brought so much of her knowledge and professional skills to the charity and we are excited to see where she will lead us over the next three years of her term."