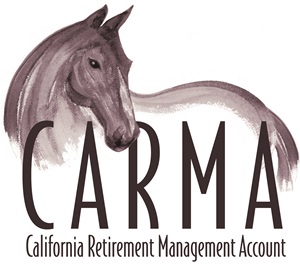 ARCADIA, Calif., January 6, 2018 – "All in favor, say 'Aye" declared California Retirement Management Account President Howard Zucker to close the final 2017 grant meeting, and with resounding gusto the CARMA Board echoed, "Aye!"
The New Year is bright and full of promise for CARMA's 23 Aftercare Partners, as they will be receiving approximately $438,000 in grants allocated for retired California-raced Thoroughbreds. The financial resource enables them to provide the horses with quality feed, care and a safe place to go after they cross the finish line for the last time.
Since being created in 2008 by Founder's Chair Madeline Auerbach, the organization has awarded more than $3.8 million to equine nonprofits that provide either rehabilitation and retraining to former racehorses or offer them lifelong sanctuary.
"It is our responsibility to make sure we do what is best by these magnificent animals," stated Auerbach. "We need aftercare organizations to help the horses start their new lives off the track, just as much as they need us for funding. It's mutually beneficial relationship in a united effort to care for retired racehorses."
The grant process consists of the submission of detailed applications and several site visits where CARMA board members and staff inspect the facilities and horses tended to by the Aftercare Partners. Another pivotal role of the nonprofits, is their involvement in CARMA's one-of-a-kind Placement Program.
"Our organization has really expanded in its scope of work in 2017," explained Vice President Candace Coder-Chew. "More horses joined our Placement Program this year than ever before – and those off-track-Thoroughbreds have to turn and find homes as equestrian mounts or pets. The Aftercare Partners play a huge part in that effort."
CARMA's financial support comes predominately from a voluntary .03 percent deduction from purses of racehorse owners at California racetracks such as Santa Anita Park, Del Mar Thoroughbred Club, Los Alamitos Thoroughbred Racing, Golden Gate Fields and the California Authority of Racing Fairs.
Organizations receiving funding include returning recipients such as After The Homestretch – Arizona, Glen Ellen Vocational Academy, Los Angeles Pet Rescue (Farralone Farms), Tranquility Farms, Humanity For Horses, Southern California Thoroughbred Rescue, Harmony and Hope Horse Haven, Redwings Horse Sanctuary, CANTER – California, Sandia Creek Ranch Auxiliary Foundation, United Pegasus Foundation, White Rock Ranch Horse Rescue and Retirement, Old Friends, Neigh Savers Foundation, TROTT, Thoroughbred Rehab Center, Saving Horses, Hope For Horses and Whispering Meadows Ranch Equine Rescue. Two new partners, Win Place Home and Down the Stretch Ranch, were added to CARMA's roster of aftercare allies for the new year.
About California Retirement Management Account
CARMA (California Retirement Management Account) is a charitable 501 (c)(3) organization formed to assist Thoroughbred rehabilitation and retirement organizations that facilitate the care and retraining of horses who raced in California and whose racing careers have ended. CARMA ensures the racehorses have retirement options by managing and disbursing funds to qualified retirement facilities caring for such horses.