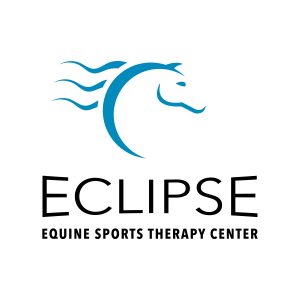 ARCADIA, Calif., Jan. 4, 2017 – Much like human athletes, performance horses of all equestrian disciplines need sports therapy to recover from various aches and pains from strenuous physical activity. Leading the rehabilitation industry with cutting edge technology and services is Eclipse Equine Sports Therapy Center (Eclipse) who helps heal some of California's finest horses.
As a tribute to the magnificent Thoroughbreds they care for, Eclipse has created a special promotion to benefit the California Retirement Management Account (CARMA), a nonprofit dedicated to funding aftercare for California-raced horses.
"After a successful 2016 working with several top trainers and their horses, Eclipse would like to give back to the industry.  Our commitment to the well-being of Thoroughbreds is unwavering, whether they are beginning their racing career or retiring. ," said Angie Hager-Scully, owner of Eclipse Equine Sports Therapy Center.
Starting January 1, 2017, for each new Thoroughbred racehorse that receives a minimum 30 days treatment from the state-of-the-art therapy center, Eclipse will donate $200 to CARMA. With this promotion Eclipse hopes to raise funds and awareness about importance of aftercare.
"Our goal is to be able to provide rehabilitation, retraining and/or retirement for as many former racehorses as we can. Getting support from the local equestrian community and businesses is vital to our success," said CARMA Executive Director Lucinda Mandella.
Eclipse Equine Sports Therapy Center is located in Paso Robles, California. The promotion ends on March 31. For more information please visit www.eclipse-equine.com.
About California Retirement Management Account
CARMA (California Retirement Management Account) is a charitable 501 (c)(3) organization formed to assist Thoroughbred rehabilitation and retirement organizations that facilitate the care and retraining of horses who raced in California and whose racing careers have ended. CARMA ensures the racehorses have retirement options by managing and disbursing funds to qualified retirement facilities caring for such horses.