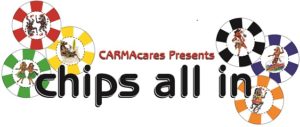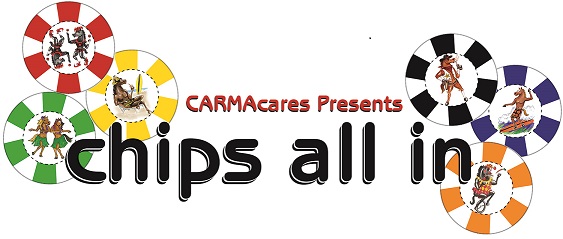 9th Annual Thoroughbred Aftercare Fundraiser Set for Del Mar 2016 Opening Weekend
Much like horseracing, Texas Hold'em poker takes skill, strategy and a bit of luck to win. Combining the two for the final time, California Retirement Management Account (CARMA), a nonprofit dedicated to funding Thoroughbred aftercare, will host its signature summer CARMA Cares fundraiser on Saturday, July 16 at the Del Mar Hilton at 6:30 p.m.
Offering an entertaining evening of casino games, live music, a silent auction, delicious food, a no-host bar and a silent auction – "Chips All In" is the Must Do social event of the Del Mar opening weekend. Guests will mix and mingle with Southern California's most prominent racehorse owners, trainers and jockeys while helping raise money for Thoroughbreds that have raced in the state.  Those confident in their poker prowess are encouraged to participate in the thrilling Texas Hold'em Tournament.
"Chips All In will be our final casino themed fundraiser at Del Mar," said CARMA Executive Director Lucinda Mandella. "It has been incredibly successful and helped raise awareness about the importance of supporting our equine athletes when they cross the wire for the last time.  We are looking forward to offering something new next year on our traditional day of the opening Saturday of Del Mar."
Through sponsorships and guest attendance, last year's event raised more than $80,000 – helping CARMA provide funding to more than 20 aftercare organizations which rehabilitate, retrain and rehome off-track-Thoroughbreds.  Annually, CARMA awards over $500,000 to these non-profits through a grant process which takes place in September.
Individual Poker Players will donate $200 and Individual Casino Night tickets are $50. Register for Chips All In and receive two complimentary Clubhouse Passes valid any single day of 2016 Del Mar Summer Meet. Sponsorships are still available ranging from $500 to $5,000.
CARMA is grateful to the many generous donors who've sponsored this years' event.   Chips All In Platinum Sponsors: Purple Shamrock Racing, Madeline Auerbach, Jay Em Ess Stable, Chuck Winner & David Bienstock, US Ranger, Rancho San Miguel and Liberty Road Stables; Gold Sponsors: Mike Pegram and Double J H Stables; Silver Sponsors: California Thoroughbred Breeders Association, Harris Farms, West Coast Feed and Von Bluecher, Blea, Hunkin Inc.; Poker Table Sponsor:  Narvick International, Gary Stevens, and Meticulous Talent Management.  Daily Racing Form donated a full page advertisement in its publication and Santa Anita Park donated space in its daily programs to help promote the event.
Tickets for "Chips All In" are now available at www.carma4horses.org. For questions please call (626) 574-6654 or email info@CARMA4horses.org. The Del Mar Hilton hotel is located at 15575 Jimmy Durante Blvd, Del Mar, California 92014.  Attendees must be at least 21 years of age.
# # #
About California Retirement Management Account
CARMA (California Retirement Management Account) is a charitable 501 (c)(3) organization formed to assist Thoroughbred rehabilitation and retirement organizations that facilitate the care and retraining of horses who raced in California and whose racing careers have ended. CARMA ensures the racehorses have retirement options by managing and disbursing funds to qualified retirement facilities caring for such horses.