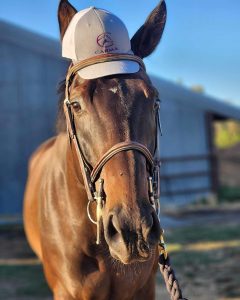 Photo: CARMAgrad Verragio Cheering on #teamCARMA during CARMAthon
DEL MAR, Calif., Aug. 28, 2023 – Building upon the momentum of the past three years, CARMA's annual summer fundraiser CARMAthon, continued its tradition of support for Thoroughbred aftercare. The non-profit raised over $145,000, with donations still coming in, to support its vital programs, including grant funding for over twenty Aftercare Charity Partners throughout California and the nation.  
Teaming up with Fanduel TV & TVG, this year's CARMAthon was highlighted during the Pat O'Brien Stakes coverage. The on-air commentators from Fanduel TV & TVG were enthusiastic about the event, emphasizing the significance of Thoroughbred aftercare in the industry. Fanduel TV & TVG elevated the discourse by airing insightful interviews with backtrack workers, trainers, and long-time supporters, each sharing their unique perspectives on why aftercare is vital. Adding emotional resonance to the coverage were inspiring video segments featuring Thoroughbreds, who have successfully transitioned into rewarding second careers.
"Thank you to everyone out there who donated to CARMAthon. There are so many people who have been incredibly gracious," said Billy Koch, CARMA's President and Little Red Feather Racing Founder and Managing Partner. "This is what it's all about – giving these horses a great home when their racing careers are over." 
In the weeks leading up to CARMAthon, social media platforms such as Twitter, Instagram, and Facebook buzzed with anticipation. The eagerness to support the cause was so strong that many began donating before the actual event. Once CARMAthon started, contributions flowed consistently throughout the day and night, highlighting the ongoing commitment to equine welfare.
"In a year where economic constraints are on everyone's mind, the unwavering support for CARMAthon was not just uplifting—it was profoundly impactful," said CARMA Executive Director Lucinda Lovitt. "Initially, we had concerns about how financial considerations might affect this year's fundraising efforts. However, this past Saturday made it abundantly clear: the racing community is resolute in its commitment to equine aftercare. The strong showing of financial support underscores that aftercare remains a priority, not an afterthought. We extend our heartfelt gratitude to each and every contributor. These funds are crucial for our Aftercare Charity Partners, who rely on our grants. Meeting our funding goal wouldn't have been possible without the community's generous support, and for that, we are immensely thankful." 
CARMAthon donors include Fanduel, Marsha Naify, Samantha Siegel, Oak Tree Charitable Foundation, Del Mar Thoroughbred Club, Bob & Jill Baffert, Rick Gold, Santa Anita Park, Tom  Bachman, Bill & Margie Strauss, Flavien Prat, Mark Stanton, LSU Racing, Eclipse Thoroughbred Partners & Blue Moon Aftercare, Jeffery Ward, Yvonne Petruin, and many, many more.