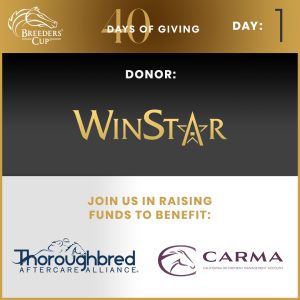 Exciting News! CARMA has been chosen as a featured non-profit for Breeders' Cup 40 Days of Giving in celebration of the 40th Running of the Breeders' Cup.
We're thrilled to be spotlighted on three occasions:
Day 1 (September 21)
Day 13 (October 3rd)
And Day 26 (October 16)
Generous donations made on these dates will support both CARMA and the Thoroughbred Aftercare Alliance. Each of these days is sponsored by a partner donor who generously offers a $1,000 matching contribution. A big shout out to Winstar for kickstarting our campaign today!