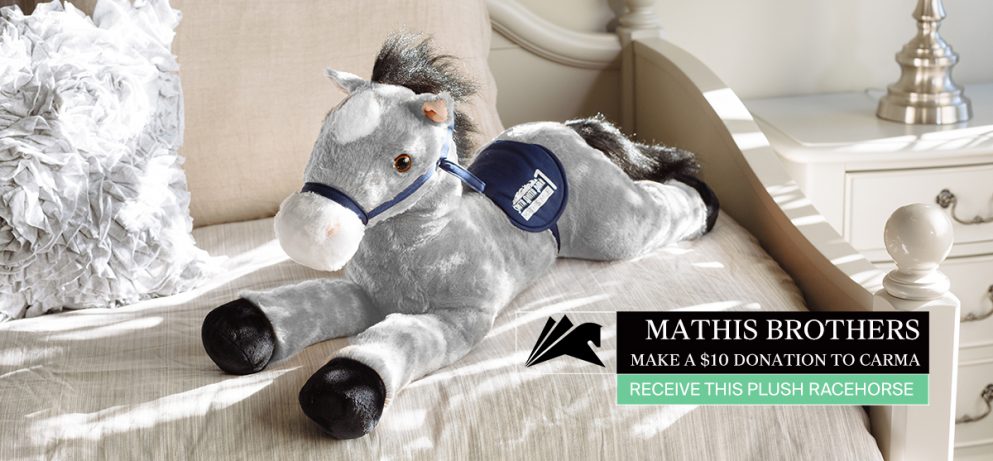 Nearly $13,000 Donated to CARMA Through Mathis Brothers Plush Horse Fundraiser on Santa Anita Opening Day
Attendees of Santa Anita Park's Opening Day bustled through the gates eager to support the racetrack's official Thoroughbred aftercare charity, the California Retirement Management Account (CARMA). As a fundraiser to help retired racehorses, Mathis Brothers Furniture supplied CARMA with more than 1,000 plush racehorses to generate donations from fans – which resulted in $12,950 for the nonprofit.
"We were blown away by the success of this fundraiser. 100 percent of the funds raised will go directly toward providing care for the horses supported by our programs," said CARMA President Candace Coder-Chew. "We are incredibly thankful to Mathis Brothers, Santa Anita and to the racing fans for their generosity."
Men, women and children of all ages were lined up from 9:30 am until supplies ran out around 2:00 pm. The large grey super soft plushies were a coveted item around the track – being scooped by multiple Santa Anita jocks to give to their kids and trainers on their way to and from the paddock to saddle horses.
"Once we were out of the plushies, people were emptying their pockets just to support retired racehorses," said Natalie Rietkerk, CARMA Program Manager. "A good number of attendees knew about CARMA, and what we do, but it was great having face time with those who had no idea programs such as ours exist within the racing industry and all the efforts being made to ensure these horses are retired responsibly and safely."
While the Mathis Brothers plush horse fundraiser has crossed the finish line, donations to CARMA are gratefully accepted any time online. Please visit CARMA4Horses.org to learn more about the nonprofits mission, safe retirement and the many options available to Thoroughbred horses after they leave the track.