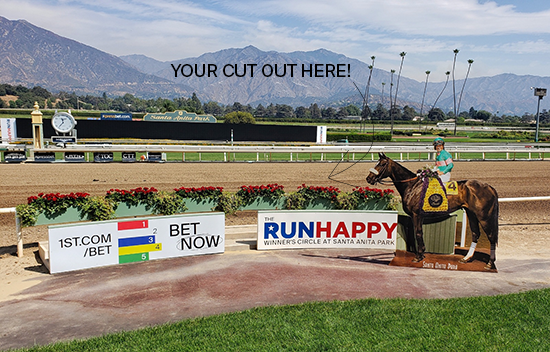 Santa Anita's Runhappy Winner's Circle Fan Cut-Outs to Benefit CARMA
While racing fans are notably and sadly absent from Santa Anita's Autumn Meet due to COVID-19 restrictions, they can still be there in spirit with the new Virtual Runhappy Winner's Circle Fan Cut-Outs. Similar to the cut-outs seen in Major League Baseball stadiums in the 2020 season, fans can still be apart of the action and feel good about doing so – it's for charity!
One hundred percent of the $200 donation, will benefit two fantastic charities. CARMA, a 501(c)(3) non-profit that is dedicated to providing funding for rehabilitation, re-training, and/or retirement of California-raced Thoroughbreds, and the PDJF, also a 501(c)(3) public charity, that provides financial assistance to jockeys that have suffered catastrophic injuries on the track will each receive $100 from the donation.
For more information on how to participate in Santa Anita's Virtual Winner's Circle Fan Cut Out, please visit santaanita.com.