A wet week in Southern California did not dampen competitive spirits at Galway Downs Equestrian Center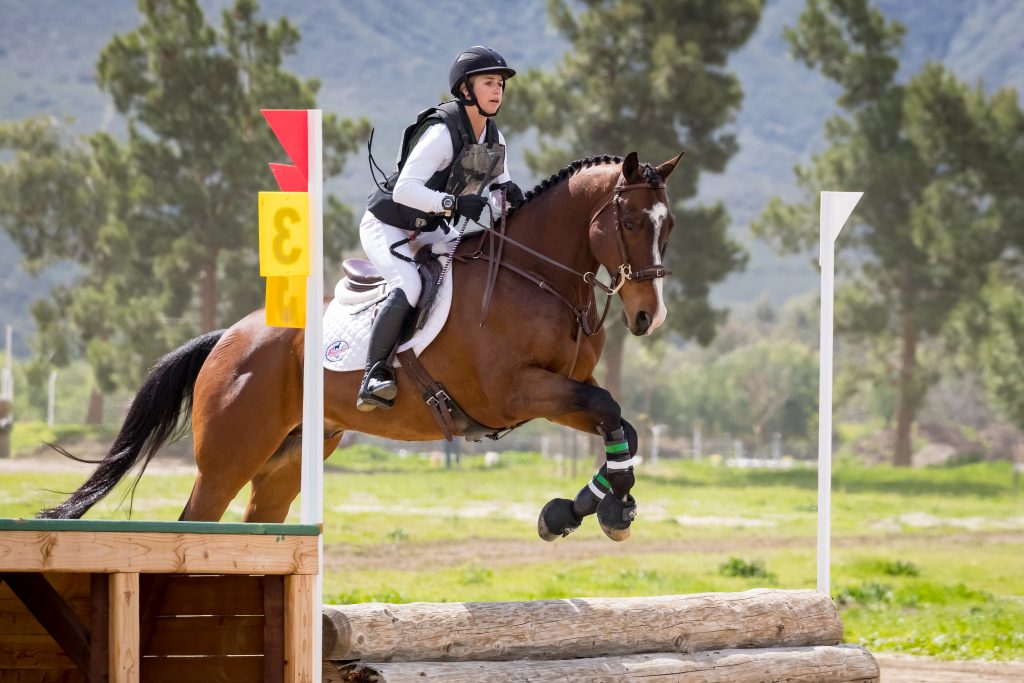 ARCADIA, Calif., March 30, 2018 – The odds were against the Thoroughbred Classic Horse Show (TCHS) as a storm soaked most of Southern California the week leading up to its March 24-25 show at Galway Downs Equestrian Center. Fortunately, the muddy surfaces were not likely a first for the nearly 100 retired racehorses that competed in the show.
"When we arrived at the show grounds Thursday afternoon, the steady rainfall had really soaked the arenas," said Lucinda Mandella, executive director of CARMA, the nonprofit which puts on the TCHS. "We were concerned about the condition of the footing and number of scratches we had received at that point. Honestly, there was some talk about having to cancel the show late Thursday evening but we were hopeful mother nature would cooperate."
Come Friday afternoon, a day full of sunny skies and light winds had helped to dry out the arenas and encouraged more than 60 equestrians to enter their horses in the show by the end of the day. Several changes were made to which arenas would be used in weekend competition and the schedule was altered to ensure safe footing in the Hunter arena.
"We love our exhibitors. They are dedicated to the breed and they weren't going to be chased away by rain. You know how they say humans resemble their dogs? Well, I think the same is true of equestrians," said Natalie Rietkerk, Project Manager at CARMA. "Thoroughbreds are so game and have so much heart. Their riders tend to be the same way."
The TCHS offers a wide variety of classes in many disciplines, such as: Hunters, Jumpers, Cross Country, Dressage, Western Pleasure, Western Dressage, Gymkhana, Lead Line and Showmanship. The weekend was highlighted by the prize money classes where more than a total of $5,500 was distributed to the winners. TCHS Ambassador Amanda Gomez, the daughter of late Hall of Fame jockey Garrett Gomez, won the 1.10m $1,500 Jumper Stakes aboard her 2017 Retired Racehorse Project competitor, Amadeus. The winner of the $1,000 Dressage Challenge was Ashlin Gayken and her mount, Leonard. The $1,500 Hunter Derby was won by Liz Lopez and Warrior. The $1,500 Eventing Challenge held exclusively at the March show which combines scores from stadium jumping, dressage and cross country – was taken by Jory Mckaig and Demanding Day. The duo also participated in the Jumper Stakes, which was horse and rider's first time ever competing in a prize money jumping class and was the highest either had jumped previously.
"The purpose of the TCHS has always been one of inclusiveness and variety, encouraging our exhibitors to bring their Thoroughbreds to an environment that is both welcoming and accommodating to their needs and aspirations," said Candace Coder-Chew, vice president of CARMA. "Many of the hunter/jumper enthusiasts competed in cross country just for the thrill of running a 2-mile, open gallop course with solid jumps and water to navigate. Other competitors entered in classes they had not tried before just for the experience. We promote enjoyment and camaraderie above all."
The next TCHS event will be on December 8-9, 2018 at the Los Angeles Equestrian Center in Burbank, CA where year-end awards will be given to high point exhibitors who participated at the Galway Show and sponsored TCHS classes offered at the Camelot Show Series.
For more information about the TCHS and CARMA, go to ThoroughbredClassic.org or CARMA4horses.org. Results for all the divisions and disciplines from the weekend's Galway Show can be found at Horseshowtime.com.
# # #
About Thoroughbred Classic Horse Show
The Thoroughbred Classic Horse Show (TCHS), put on by CARMA, celebrates the athleticism, versatility, and spirit of retired racing Thoroughbreds. The TCHS Series was born from a desire to provide Off-Track Thoroughbreds and their owners a unique opportunity to gain show experience in a forum that is cost effective as well as supportive to the Thoroughbreds and their riders.
About California Retirement Management Account
CARMA (California Retirement Management Account) is a charitable 501 (c)(3) organization formed to assist Thoroughbred rehabilitation and retirement organizations that facilitate the care and retraining of horses who raced in California and whose racing careers have ended. CARMA ensures the racehorses have retirement options by managing and disbursing funds to qualified retirement facilities caring for such horses.