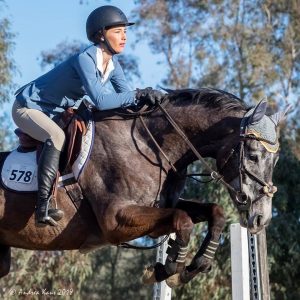 AMANDA GOMEZ  & JOLEE CRAIGMYLE SHOW HORSEMANSHIP AT CARMA EVENT
Amanda Gomez, 14-year-old daughter of late Hall of Fame jockey Garrett Gomez and his wife Pam, demonstrated the apple doesn't fall far from the Thoroughbred tree this past Saturday at Galway Downs, as she competed in the Thoroughbred Classic Horse Show, an event sponsored by the California Retirement Management Account, CARMA, which supports retired racehorses.
"This girl is so very talented," said Candace Coder-Chew, Santa Anita's Director of Print and Graphics and Vice President of CARMA. "She rides with effortless ease and light hands that her Dad would be so proud of. She's so talented, genetics are definitely in play here!"
While competing in three different events, Gomez won the Jumper Stake, the highest jumper level at the show, which offered a $1,500 purse. She also won the .95 meter Division Championship and was second in the Cross Country Jump, a 13-jump, two-mile course through the Galway countryside.
In addition to Gomez, another 14-year-old with a racetrack pedigree, Jolee Craigmyle, the daughter of assistant starter and blacksmith Shane Craigmyle and his wife Michelle, won the .75 meter Division Championship. (She was victorious at age 12 in the Jumper Stake at the 2016 TCHS Galway Show).
"I asked Jolee to ride a horse of mine in the 70 meter event on Saturday, and she readily agreed," said Chew. "It was her first time on this horse and after just a short warm-up, they won their class. Unbelievable talent."
Craigmyle and Gomez are both CARMA ambassadors, helping to keep fundraising events and shows in the forefront of social media as they assist CARMA in promoting off-the-track Thoroughbreds as "sport" horses among their peers.
Look for these talented young women at Santa Anita when CARMA stages its next Aftercare Awareness Days. For additional information on CARMA and Thoroughbred Aftercare in California, please contact CARMA Executive Director Lucinda Mandella at LMandella@carma4horses.org.