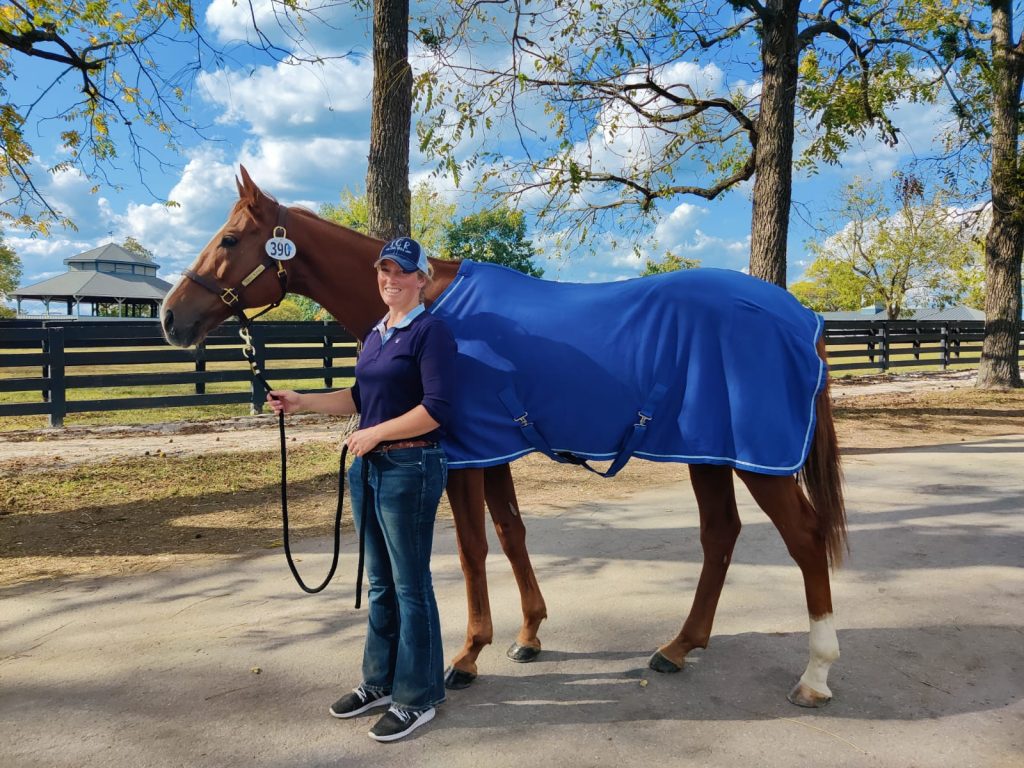 Caption: Red King #390 Just After Thoroughbred Makeover Inspection – Ready to compete!
By Jay Privman
Almost exactly one year after making the last of 43 starts that included victories in the Grade 2 Del Mar Handicap and historic Grade 3 San Juan Capistrano Handicap at Santa Anita, the now 9-year-old gelding Red King will take a significant step on his post-racing career when he competes this week in the Retired Racehorse Project's Thoroughbred Makeover at the Kentucky Horse Park in Lexington, Ky.
The Thoroughbred Makeover is for Jockey Club-registered Thoroughbreds who are recently retired. Red King last raced Oct., 8, 2022, completing a career that saw him win eight times and earn $586,555, the majority of that coming under the care of trainer Phil D'Amato.
Red King's work to transition to his post-racing career has been in Fallbrook, Calif., at the Sandia Creek Ranch Auxiliary Foundation, which has been accredited by CARMA – the California Retirement Management Account — for nearly a decade. He was placed at Sandia Creek in March.
Sandia Creek's Kiersti Wylie will partner Red King in the Thoroughbred Makeover, their events including competitive trail on Wednesday and freestyle on Thursday. In addition, Red King will compete in several events via the Jockey Club's Thoroughbred Incentive Program (T.I.P.), which is open to any registered Thoroughbred, not just recently retired racehorses, essentially a higher class of competition. All told, he will be in seven events over three days, ending Friday.
"He really loves to do it," Wylie said. "He had raced for so long he needed a good, long turn out, but then we started developing him and he's been so good."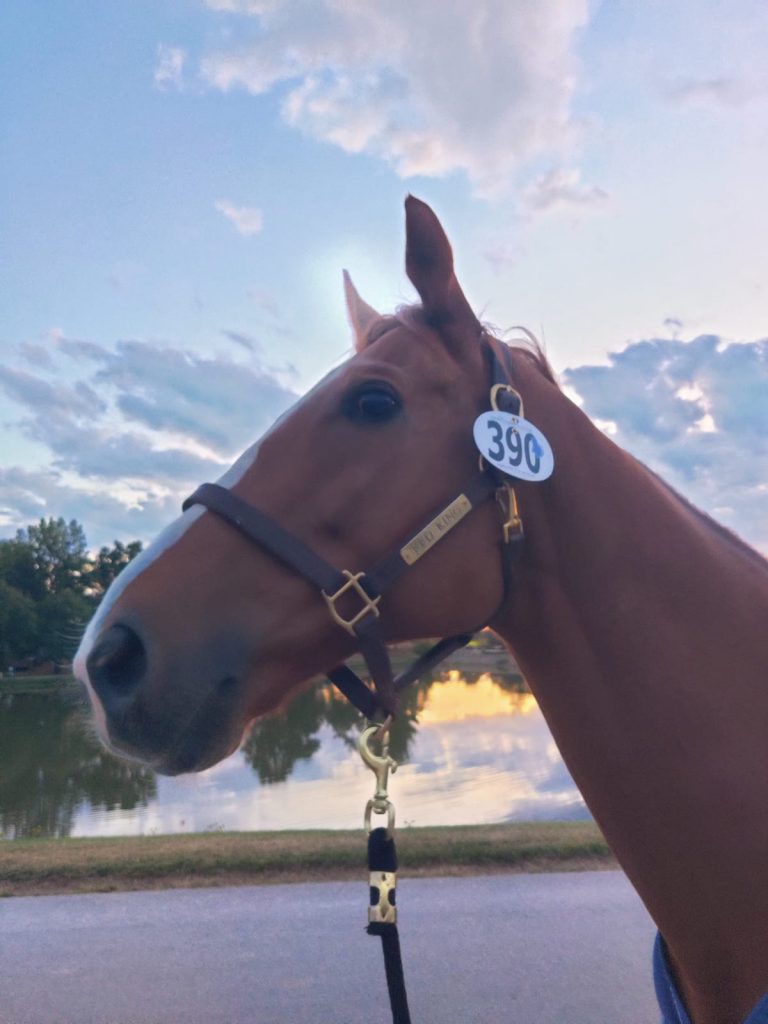 Caption: Red King #390 Looking Serene Before Makeover Kicks Off
The disciplines in which Red King will compete will demonstrate how well he has made the transition from the racetrack. Competitive trail, for instance, requires a horse to encounter a trail, jump logs, deal with foliage, and navigate much more, all in a prescribed period of time, all while being judged. He must handle a number of things thrown at him, far different from his previous life, turning left and then blasting home when a jockey asks
"They're looking for a horse who can focus, keep his composure, canter, come back," Wylie said.
For the freestyle competition, essentially dressage, Wylie said Red King will have to walk, jog, and canter, change leads, halt, and walk back. Playing off his name, he will compete to the theme song of "The King and I."
"He's been phenomenal," Wylie said. "He's really loving it. He got a special T.I.P. invitation just based on a video we sent of him."
Funding for CARMA, which supports organizations like Sandia Creek Ranch Auxiliary Foundation and helps facilitate second careers for horses like Red King, come from private donations as well as CARMA's annual fund-raiser, CARMAthon, which most recently was held in August at Del Mar. For more information and to donate, please go to carma4horses.org
Follow CARMA's Facebook, Twitter, or Instagram for more Thoroughbred Makeover updates on competing #CARMAGrads Red King (#390) , Angel of Freedom (#107), and Twokidsfromdabronx (#474).