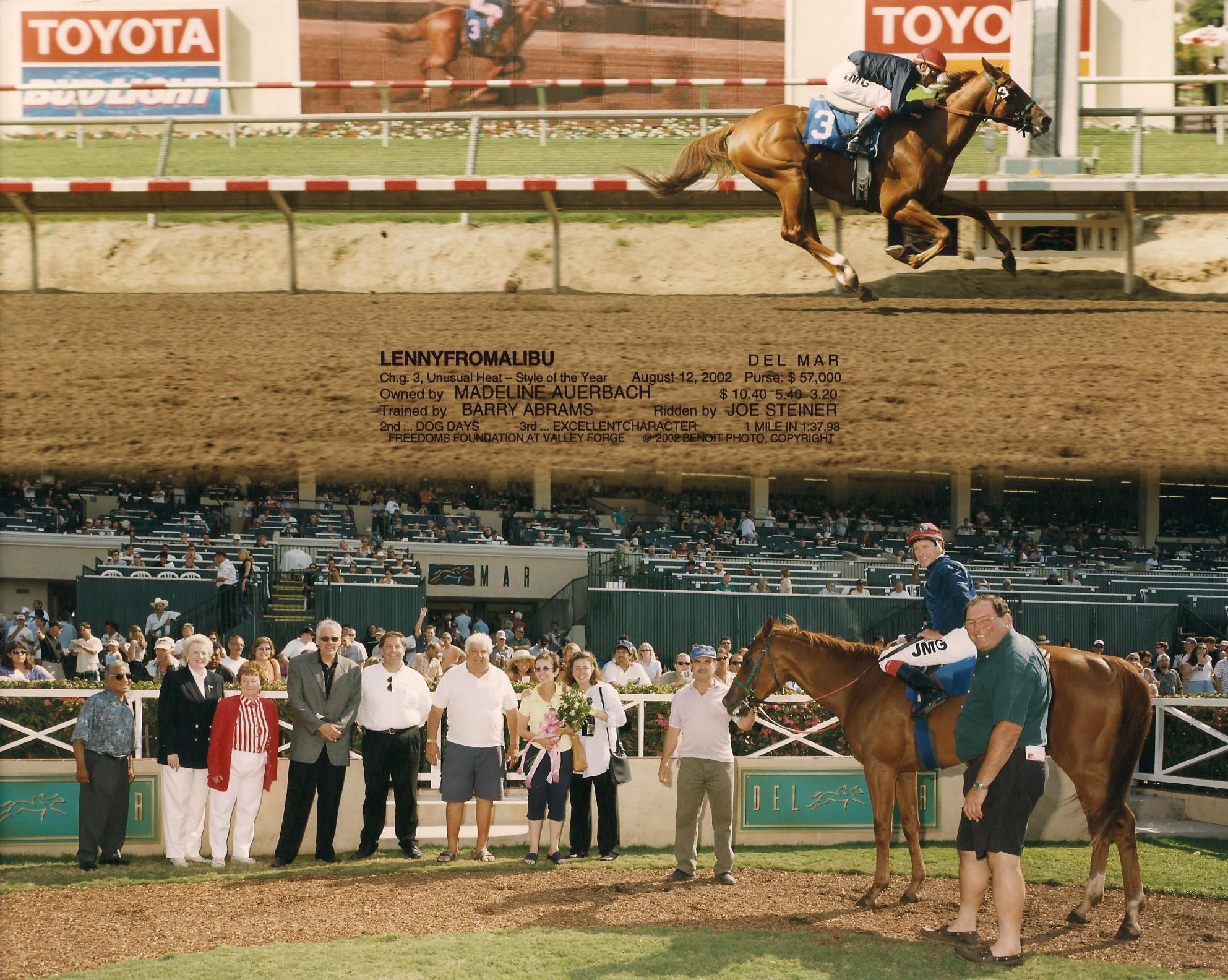 It seems only appropriate a racehorse named Lennyfromalibu would become the inspiration behind the development of CARMA, a nonprofit dedicated to Thoroughbred aftercare in the Golden State. 
On the track, "Lenny" sizzled, setting a course record and winning multiple stake races. His success put his freshman sire Unusual Heat on the map and along with him, his owner and breeder Madeline Auerbach. 
Prior to Lenny, Madeline was relatively unknown. Her husband Jim, handled their modest string of horses - most of which were claimed away before it came time to retire from racing. When Jim passed away in 2000, Madeline took over managing the family's racehorses and their new stallion Unusual Heat.
Lenny's racing career came to an end in November 2005 and Madeline was responsible for finding retirement options for him. 
"I didn't know what the options were for newly retired racehorses. So I started asking around and researching on the internet - I found no real answers," said Madeline. "The information was difficult to navigate, sparse and scary. I thought if I was having this much trouble, surely others were struggling as well."
 Madeline went to the Thoroughbred Owners of California, where she was now a director,  and used her position and influence to push aftercare into the conversation. 
"I found that most of the bigger and wealthier owners used their own farms to retire their horses and couldn't relate to those who didn't have that option. So they weren't too interested in the issue I was presenting," said Madeline. "But the majority of owners weren't as affluent  and needed help to ensure a safe future for their horses. I knew something had to be done so the horses weren't ultimately the ones suffering." 
In a collaboration, Madeline and several members of the Thoroughbred Owners of California came up with a plan to create the California Retirement Management Account, the first nonprofit of its kind dedicated to Thoroughbred aftercare, and  presented it to the California Horse Racing Board. John Amerman, a commissioner on the CHRB, largely supported the idea and helped push it through.
Better known now as CARMA, the nonprofit would be funded by racing owners through a purse contribution of 0.03% and receive matching funds from the Stronach Group (Santa Anita Park and Golden Gate Fields).
Founded in 2008, CARMA's mission is to provide funding for the retirement of California-raced horses and to educate the public and racing community on options available to off-track-Thoroughbreds once their racing career is over. One of the organization's primary focuses is allocating grants to approved aftercare charities focused on rehabbing, retraining and rehoming retired racehorses. To date, CARMA has granted more than $4 million to Thoroughbred nonprofits.
Madeline first learned of the challenges faced by aftercare charities when she was searching for a sanctuary for Lenny. 
"There were only a handful of Thoroughbred aftercare organizations in California and it all boiled down to lack money and leadership," said Madeline. "I thought if we could bring charities together and start a dialog, we could form a community around the sole mission of helping retired racehorses."
Madeline soon led a roundtable discussion with the aftercare charities to see how CARMA and horse racing could best serve their cause. The answer was assisting with the retirement and rehabilitation of the horses retiring directly off the track. In most cases, the aftercare charities were not receiving the veterinary background or history they needed on the retired racehorses. Leading the charities to often spend thousands of dollars diagnosing and healing injuries.
"From the conversation, we launched our hallmark service, the Placement Program," said Madeline. "Since we are closely connected with racing, we are able to get the information and background on the horses directly from the connections. To help spare the charities the financial strain, we decided CARMA would rehab the horses and once they were healed, put them with the aftercare charity in which they are best suited."
Since its launch in December 2012, the Placement Program has helped more than 300 newly retired racehorses and their owners find safe and successful new lives off the track. 
"I came into Thoroughbred aftercare wanting to make a difference and I think we've done a pretty good job. When you look at the numbers and see how many horses retire every year, it can be overwhelming," said Madeline.  "My goal was to help one horse at a time. It's a humongous task, but I could do it one at a time."
Through the Placement Program, its funding aftercare charities and being a resource to horsemen on the racetrack, CARMA has become one of the brightest stars in Thoroughbred racing in California - and it's all thanks to a chestnut gelding and his owner.
"If there's anything I want taken away from this story, it's that one person can make a difference," said Madeline. "I call Lenny the godfather of CARMA. If it wasn't for him, I wouldn't have known how difficult it was to safely retire a racehorse."
Lenny passed away on May 28, 2020 at the age of 21 after a long and happy life at aftercare charity Tranquility Farm.
"His legacy is CARMA," said Madeline. "He was a great racehorse but much like the many retired racehorses CARMA helps, his best work took place off the track."