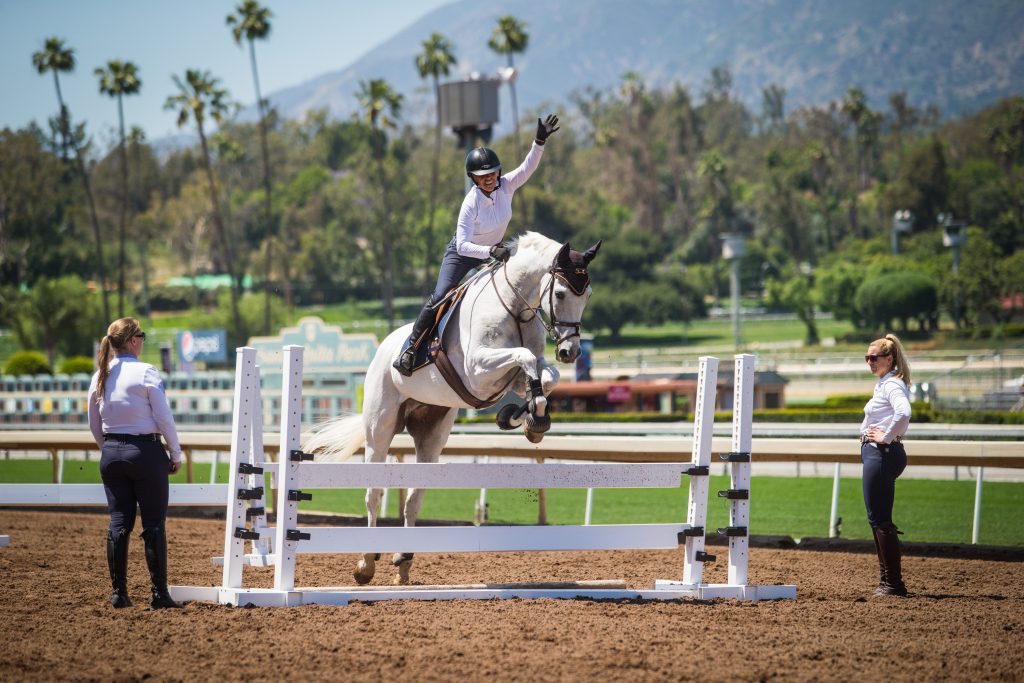 The familiar call of the trumpet sounded as graded stakes winner Dhaamer trotted on to the track at Santa Anita Park on May 13, 2017 to kick-off CARMA's Thoroughbred Aftercare Awareness Day. However, this time, the 10-year-old chestnut by gelding would not be racing. With his long, wavy, fiery red mane blowing in the wind and the sun gleaming off the sterling silver on his western tack, Dhaamer and his owner Jenny Earhart were a representation of life after the races for retired race horses.
CARMA is a non-profit, charitable organization that provides funding for retirement of California-raced Thoroughbred horses while serving as an educational resource for the public and racing community. There is no finer example of the scope of CARMA's services than these Aftercare Awareness Days. Throughout the afternoon, CARMA presented live demonstrations of the proficiency of off-track Thoroughbreds in their second careers and offered expert insights on equine retirement from six of its Aftercare Partners in the Information Pavilion.
Fan favorites Pelirrojo, an 18-year-old stunning white colored gelding, and his owner Janie Steiner returned for their third appearance. Highly decorated in the jumper discipline, the duo showcased the Thoroughbred's agility and strength by performing a jump configuration called a gymnastic – which included two verticals and an oxer. Janie and Pelirrojo have been a pair for 12 years and are headliners at CARMA's Thoroughbred Classic Horse Show. Interacting with crowd as they cantered by, their performance was reminiscent of an animated Las Vegas act.
Closing out the day were first time participants Far Rockaway, a 7-year-old chestnut gelding by champion race horse Macho Uno, and his rider Jasmine Wheatley who demonstrated their expertise in the hunter style of jumping where precision and cadence are paramount. Far Rockaway has proven to be a much better fit for the hunter ring than he was on the race track. His athletic ability has catapulted him to Championship status in the US Hunter/Jumper Association-Western Region, Thoroughbred Hunter Challenge, and Inland Empire Hunter/Jumper Association.
CARMA regularly hosts Aftercare Awareness Days throughout the year.  Please visit carma4horses.org for an updated calendar of events.