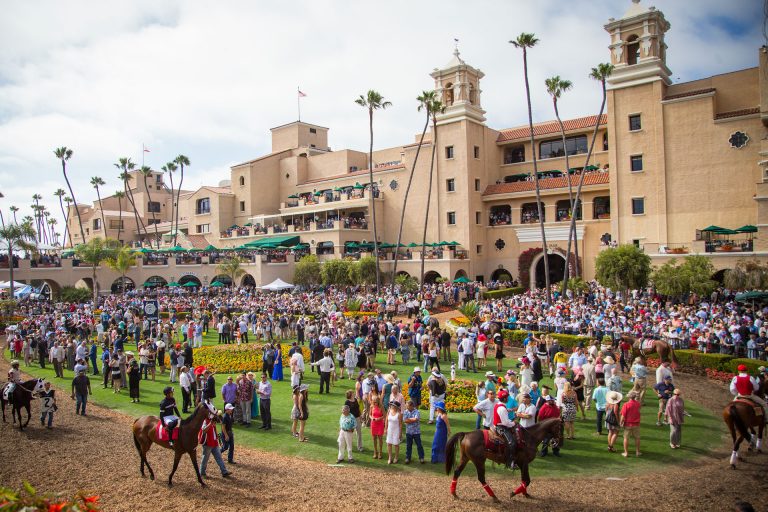 Annual charity event on July 22 to support retired racehorses
DEL MAR, Calif., July 12, 2018 – As the Southern California Thoroughbred racing community is busy packing their swimwear, surfboards and saddles, the California Retirement Management Account (CARMA), is a putting on the final touches for its 11th annual CARMAcares fundraiser to be held on Sunday, July 22 after the races at Del Mar Thoroughbred Club.
"Opening Week at Del Mar is something horsemen really look forward to all year. It's like a celebration of summer, friendship and Thoroughbreds," said CARMA Executive Director Lucinda Mandella. "Which is what makes it the perfect time to throw our fundraiser."
This year's theme 'Hoedown for Horses', will have attendees kicking up their heels as they dance to live country music performed by Jake Parr, cheer on the head-to-head jockey mechanical bull riding competition, feast on a barbecue buffet and soak in the good vibes of summer.
Funds raised at Hoedown for Horses will directly benefit CARMA's one-of-kind placement program which retires, rehabilitates and rehomes Thoroughbred racehorses at the end of their career. The money will also go towards replenishing CARMA's grant fund which helps support more than 20 nonprofits that care for retired racehorses.
"This is a great cause that everyone in racing needs to support. It's all about the love of horses," said Billy Koch CARMA board member and managing partner of syndicate Little Red Feather Racing. "On top of that, the Hoedown is going to be blast and it's the perfect way to close out Opening Week of Del Mar."
Festivities began after last race in the iconic paddock at approximately 6:30p.m. The evening will be highlighted by the jockey bull riding competition will feature Southern California jockeys, Joe Talamo, Martin Garcia, Tiago Pereira, Reuben Fuentes, Flavien Prat, Edwin Maldonado, Franklin Ceballos, Kyle Frey, Corey Nakatani and Asa Espinoza facing off in bracket-style system to crown a champion.
A delicious barbecue-styled buffet, by Premier Catering, will offer three different types of gourmet sliders including pork, sirloin burgers and buffalo fried chicken served with baked beans. There will also be a potato bar with all the fixings for a feast. When it's time for CARMA supporters to whet their whistle, there will be a no-host full bar.
Hoedown for Horses is sponsored by Liberty Road Stables – Marsha & Elise Naify, Bob & Jill Baffert, Auerbach Racing, Jay Em Ess Stable, Mr. & Mrs. Paul Reddam, Purple Shamrock Racing, BranJam Stables, Del Mar Thoroughbred Club, Jane & Burt Bacharach, Rick & Marcia Gold, Santa Anita Park, KC Horse Transport, Maureen Richardson and Little Red Feather Racing.
Individual tickets are $125 and sets of 10 can be bundled for $1,000. Sponsorships and underwriting opportunities ranging from $2,500 to $10,000 are still available. To purchase tickets or become a sponsor, visit https://www.carma4horses.org/events/carma-cares-fundraiser.
For questions please call (626)574-6622 or email lmandella@CARMA4horses.org. Del Mar Racetrack is located at 2260 Jimmy Durante Blvd., Del Mar, CA 92014.
# # #
About California Retirement Management Account
CARMA (California Retirement Management Account) is a charitable 501 (c)(3) organization formed to assist Thoroughbred rehabilitation and retirement organizations that facilitate the care and retraining of horses who raced in California and whose racing careers have ended. CARMA ensures the racehorses have retirement options by managing and disbursing funds to qualified retirement facilities caring for such horses.